RHS Homecoming Parade
This year's theme: Marvel vs. DC!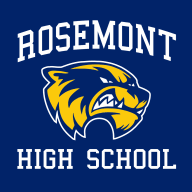 Join us as we walk in the RHS Community Homecoming Parade!
The parade route will begin at the intersection of South Port and Keifer. Students will leave Golden Empire and meet up with the parade to walk down Kiefer Blvd. to Rosemont High School. Families who want to march in the parade should meet in front of the Golden Empire cafeteria at 3:00pm. We will walk down Canberra Drive to Thornhill and join the parade at South Port and Kiefer at 3:30pm. The parade route from Golden Empire to Rosemont High School is 1.7 miles
The parade's theme is Marvel vs DC Comics. We will focus on Golden Empire as a team. Students and families may dress in their Marvel or DC costumes; no masks or inappropriate costumes. Or students may dress in blue/gold to show school spirit. Students may also bring noisemakers as we cross the Review Stand near Atonement Church. Let's make some noise
Following the parade, families are encouraged to attend the Rosemont High School Homecoming football games held at Rosemont High School.
Transportation back to Golden Empire will not be provided. Consider planning with other families to carpool or park a car at Rosemont High School.
All children marching in the parade MUST be accompanied by a parent/guardian during the entire event.