Golden Empire is a Leader In Me School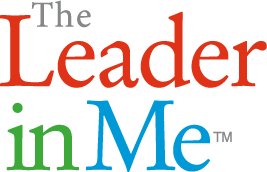 Golden Empire is excited about receiving a five year grant which allows them to become a Leader In Me school. The grant, valued at $90,000, emphasizes the 7 Habits from Stephen Covey's book, The 7 Habits of Highly Effective People.
Here are the SEVEN habits along with a quick summary of each:
BE PROACTIVE: You're in Charge of You
BEGIN WITH THE END IN MIND: – Have a Plan
PUT FIRST THINGS FIRST – Work First, Then Play
THINK WIN-WIN – Everyone Can Win
SEEK FIRST TO UNDERSTAND, THEN TO BE UNDERSTOOD – Listen Before You Talk
SYNERGIZE – Together is Better
SHARPEN THE SAW – Balance Feels Best
Let's look more closely at the first habit, Be Proactive. The emphasis is on being a responsible person. Students choose their actions, attitudes, and moods. They don't blame others for their wrong actions. A proactive student does the right thing without being asked, even if no one is looking. The most important concept is for the student to understand that between stimulus (something acts upon them) and reaction (what they do in response to the stimulus) is a time to pause and choose an appropriate action.
We will discuss the remaining habits in the upcoming weeks. Remember, these habits are for both students and adults and can be used in all aspects of life. These are life skills. They teach us how to help ourselves and others in a positive way.