Congratulations Mr. Ron! Click here
Community Partnership Award (Sept 20, 2019)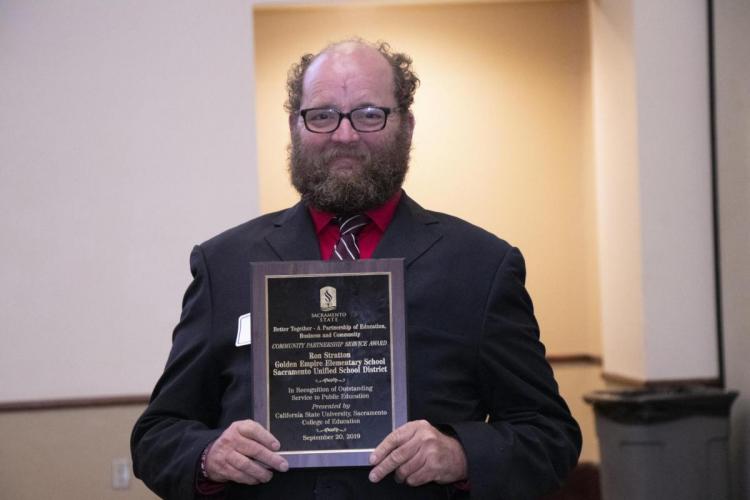 Click here to see Sacramento State University video of Mr. Ron with parents, students, and staff of Golden Empire: https://vimeo.com/362603769
Click here to see Sac City Unified School Districts web page for Mr. Ron: https://www.scusd.edu/e-connections-post/golden-empires-ron-stratton-honored-prestigious-sac-state-community-award
A message from Superintendent Jorge A. Aguilar:
Dear Colleagues,
Thank you for all your hard work this week on behalf of our students and families! This week I had the opportunity to interact with staff at several schools and was reminded at each of my visits of how fortunate we are to serve our community. The following is one example that reflects why I feel honored to serve Sac City Unified.
Later this evening, one of our team members will be presented with the Sac State College of Education's prestigious Better Together Community Partnership Award! This is the 30th year that Sac State has presented this award to an extraordinary individual who is dedicated to improving the state of local schools and districts.
Our colleague—Mr. Ron Stratton—is so much more than just the plant manager at Golden Empire Elementary School and the recipient of this award. He is the lifeblood of the school and the reason why so many former students come back to visit Golden Empire years after they have left and are in their high school and college years. Principal Irene Eister said it best: "Ron is not only the backbone of Golden Empire, he's the backbone of this community. He has a sixth sense—he can look at a student or a family, know what they need and then go make their day."
This week I visited Golden Empire to catch up with Mr. Stratton and congratulate him on this remarkable accomplishment. More importantly, I went to thank him for going above and beyond the call of duty to provide our team members and students with what they need to be successful. I am proud to say that I know Mr. Stratton. He and I met two years ago and then again last year at Golden Empire's annual pancake breakfast. Knowing who he is, I was not surprised that by the time I got to Golden Empire, he had already made the campus look amazing! Every single classroom was spotless and the moment I stepped on to campus I felt like I was walking into a brand-new building. It was evident that Mr. Stratton had been working since 5 a.m. to get the site ready (as he does every day) so that all teachers and students could enjoy a clean and healthy learning environment. That is what Mr. Stratton does best. He makes everyone feel good about coming to school and the school climate at Golden Empire thrives because of it. He also brightens spirits on campus by constantly helping to plan and host events that boost morale and make kids feel good about coming to school.
As Mr. Stratton prepares to receive his award tonight, he is a reminder to us all of the tremendous role that our support staff members play in our organization. The famous saying that "it takes a village to raise a child" rings particularly true when describing the elements that go into building a positive climate in our schools. When plant managers like Mr. Stratton make the connection between their work and promoting a positive school climate, the entire school and community are better for it. The value of a well-maintained school goes far beyond having a clean classroom or office—this work furthers our mission by enhancing and directly contributing to a child's ability to learn. It impacts how our kids feel about themselves. It helps support our teachers in their efforts to connect with students. As Principal Eister pointed out, it can make or break the school day.
In the Rosemont community, Mr. Stratton is known beyond the walls of Golden Empire. He volunteers for the Special Olympics. He helps coach sports teams. He is one of the driving forces behind the very popular annual community pancake breakfast that raises thousands of dollars for the school and provides important services that are needed. As Superintendent, I value that Mr. Stratton is not only a valuable team member, he is an ambassador for our school and Sac City Unified in his community.
Please join me in congratulating Mr. Ron Stratton for this truly well-deserved accomplishment. I am proud to serve this District with him and appreciate how much he inspires everyone around him do everything possible to help our students and families.
Thank you and have a great weekend!
Sincerely,
Jorge A. Aguilar