PE (GoNoodle)
4/14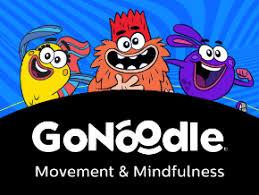 As the new coronavirus situation quickly evolves, we understand that this is a challenging and scary time for everyone. The GoNoodle team wants you to know that you have our full support and our priority remains to provide free, easy-to-use activities for teachers, students, and families and to help keep kids active and engaged in learning- especially during difficult times like this.
Introducing GoNoodle Good Energy at Home: a collection of free online resources for kids and families to move and learn together!
We think everyone needs good energy right now – whether it is the joy of a family dance party, the calming of a mindfulness video, or learning how to stop the spread of germs – we are engaging kids and their parents in fun ways to stay healthy and active while they spend more time at home.
To that end, we are making some of our premium content and tools available to educators and families through a package we're calling GoNoodle Good Energy and GoNoodle Buena Energía. It has been developed for educators and families that have been impacted by the new coronavirus and need resources to use at home while schools are closed. GoNoodle: Buena Energía makes select content available in Spanish. We will add new Spanish and bilingual content to Good Energy weekly from here. We hope this helps to empower more families to move, learn, and create Buena Energía together! You can find videos and complementary learning extensions at http://www.gonoodle.com/goodenergy.
Spread the Word with teachers and parents in your community!
We encourage you to share GoNoodle: Good Energy in your community by posting the following on your school social media channels or school website. We've included suggested copy below and attached images to accompany your posts; please feel free to include this information with any other resources you are sharing. Let's create more good energy together!
Social Post Copy:
We're proud to share GoNoodle: Good Energy and GoNoodle Buena Energía, a free online resource for parents, teachers, and students in our community. It's a new way for families to stay active and spark good energy at home together: including movement videos in English and Spanish, printable downloads, and offline activities – with new resources posted every week. Sign up at https://www.GoNoodle.com/goodenergy for regular updates. #GoodEnergy #BuenaEnergía
We know this is a tough and uncertain time and we hope that these resources are useful for you and the families that you serve. Please take care of yourself and those that you love. Your health and wellbeing are always our top concern.
Wishing you good health and strength,
Team GoNoodle